"The whole world within a neighbourhood" by Smaïl Kanouté, Simon Rouby and Native Maqari
From 3rd June to 30th July 2023, artists and curators Smaïl Kanouté, Simon Rouby and Native Maqari, the three laureates of the "Mondes nouveaux" programme, will be exhibiting at the ICI – Institut des Cultures d'Islam.
Although their practice is usually informed by their travels around the world, as a result of pandemic restrictions, this exhibit centres on Paris's Goutte d'Or neighbourhood, which fortunately contains the whole world within its perimeter. This change of focus led the three artists to take an interest in the construction of cultural identity and its representation. They also invited artists Cebos Nalcakan, Elsa Noyons and Sifat Quazi – who like them are no strangers to the neighbourhood – to share their impressions and production.
Together, they have set out to present a vision of the Goutte d'Or as seen through the prism of their emotions, using video, calligraphy, installation art, serigraphy, drawing, painting and photography to give their imagination free rein and invent new interpretations. All the wide world is present here, from supporters of the Algeria national football team "the Fennecs" to women selling African pears and the black samurai Yasuke Kurosan. History and fiction merge as, wandering from sunrise to sunset between familiar sounds and chance encounters, new and unexpected itineraries come to light.
As always at the ICI, the exhibition is accompanied by a cross-disciplinary events programme for both adults and children: Japan meets the Sahel as part of Paris's Nuit Blanche festival and a panel discussion brings together the three artists and curators to talk about the black experience and migration. But there's much more besides with stories, films, concerts and a workshop to encourage families to take a closer look at the neighbourhood. Further information and a comprehensive guide to events can be found on our website: www.ici.paris
Sifat Quazi
Palabres, 2023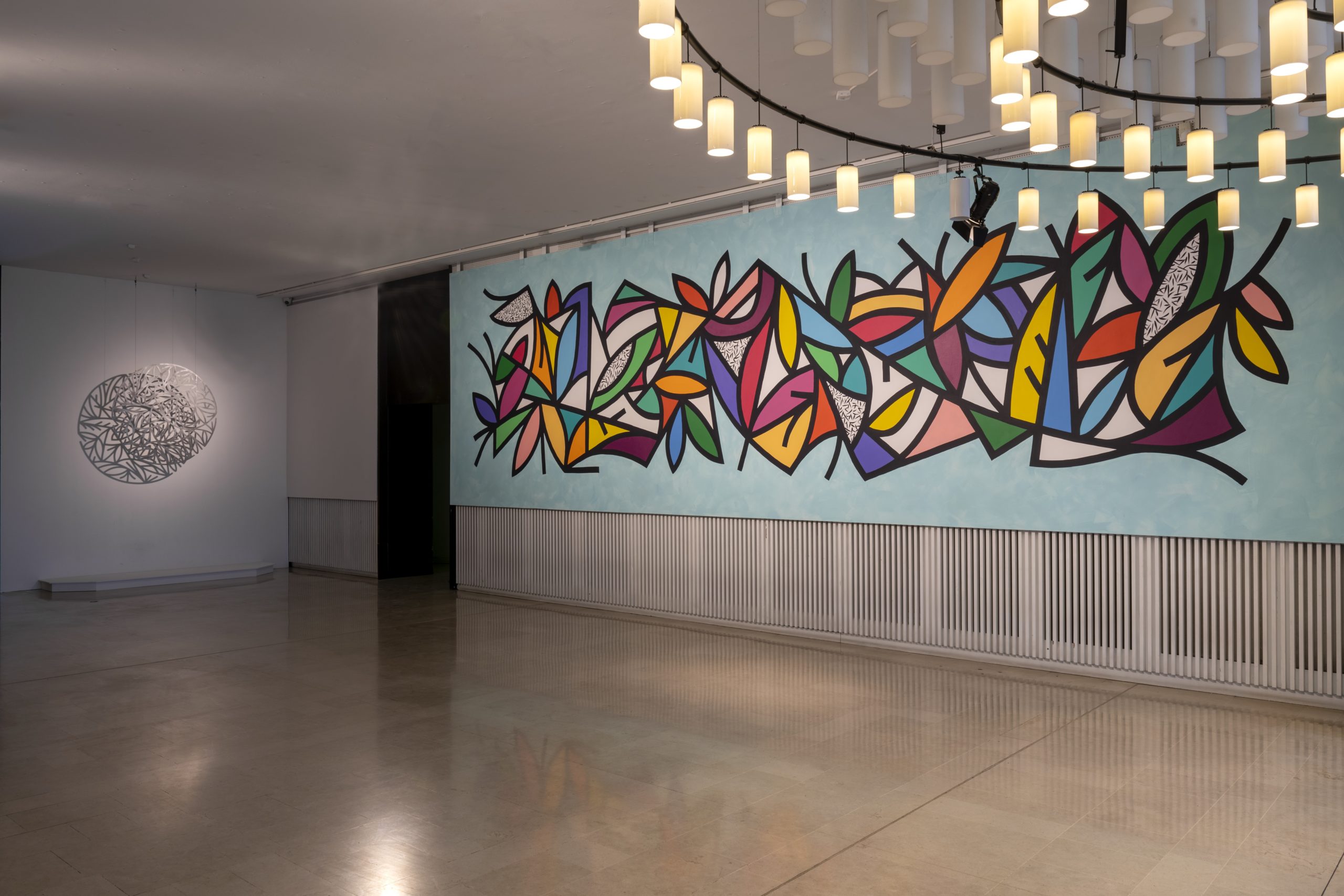 Sifat Quazi is a self-taught artist whose practice has developed around a new means of expression, a personal artistic language informed by her native country, Bangladesh and her urban wanderings. Invited by the ICI and Smaïl Kanouté, with whom she has already collaborated, she immersed herself once more in the streets of the Goutte d'Or where she lived for several years. Sometimes constructed and sometimes organic, Quazi's mark making is both spontaneous and intuitive. She lets her brush slide across the wall in the same way that she allowed her feet to guide her perambulations. The colours of shops, the patterns of ribbons and embroidery and the many and varied features of the neighbourhood are displayed across a joyful 20 m2 composition. For the first time, Sifat Quazi has chosen to express her vision in three dimensions by working with metal: part moucharaby latticework and part dreamcatcher, her sculpture seems to contain the entire Goutte d'Or in the twists and turns of its lines.
Native Maqari
JIJIYA (the uphill course of a tumbleweed), 2023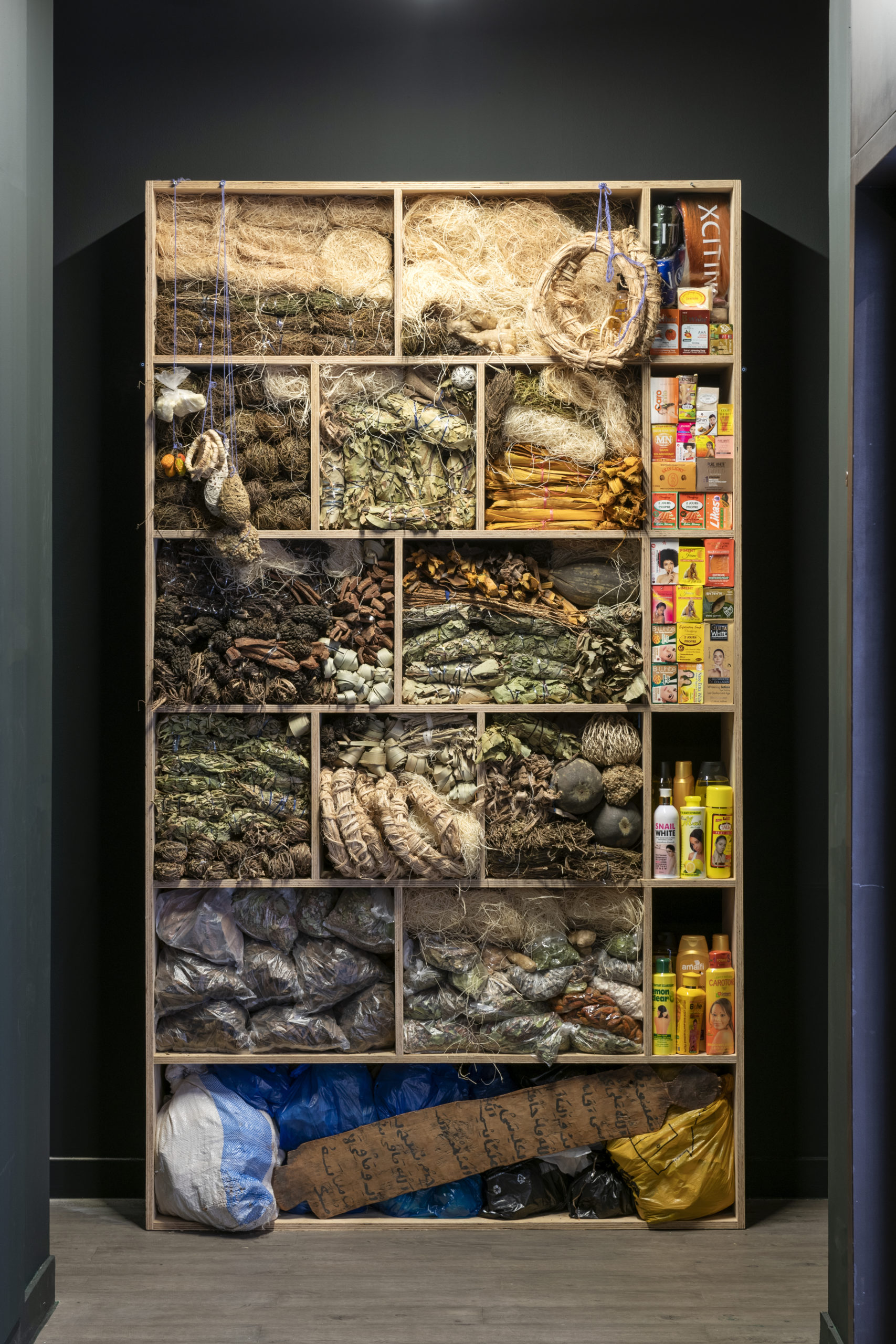 While walking through the street of the Goutte d'Or, Native Maqari recognises the smells and colours of Zaria, his native town in Nigeria that he left behind when he settled in the USA. This feeling of familiarity disappears however once he steps inside the emblematic shops in Château Rouge and discovers the toxic cosmetics used to lighten black skin placed on shelves just a few metres of away from the herbal remedies of traditional African medicine. Surprise gives way to despair when he understands that the clientele for both is identical. By presenting these items out of context and placing them on the same shelf, he puts a spotlight on the paradox and underlines the inherent violence of these uses. By juxtaposing the transmission of age-old practices and standards of beauty inherited from slavery and colonisation, Native Maqari reveals the complexity that underlies the question of integration and the construction of contemporary identities.
Elsa Noyons
Déplier l'Ordinaire. Cartographies narratives de la Goutte d'Or 2018-2023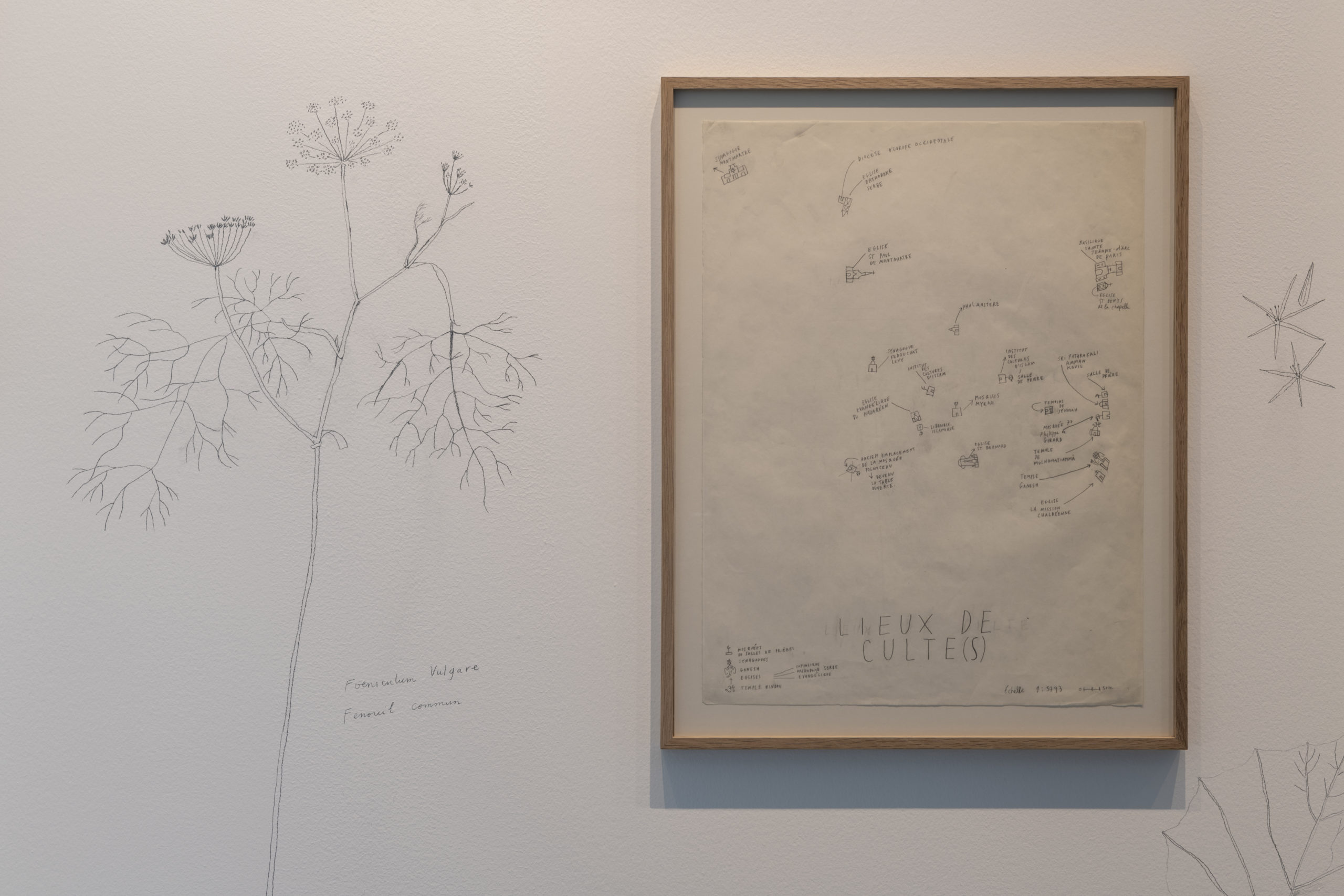 Déplier l'Ordinaire is the result of a long survey of the Goutte d'Or neighbourhood conducted by Elsa Noyons, who lived there from 2016 to 2020. She has sorted and classified the data she has collected to map out the neighbourhood from both an emotional and documentary viewpoint producing an ensemble of more than 70 thin sheets of paper, each of which addresses a specific aspect of the Goutte d'Or. Not even the sun's trajectory through its streets has been forgotten. The exhibit gives visitors a glimpse of the area's exceptionally rich network of associations and NGOs and the effervescent mix of cultures, not forgetting the activism past and present of its inhabitants. These sheets of paper, each representing a fragment of daily life, can be taken separately, combined or superposed at will, revealing in the process numerous layers of meaning in which personal, anecdotal, historical and immutable elements intertwine.
Cebos Nalcakan
Series: Paris-Bezbar, 2016-2022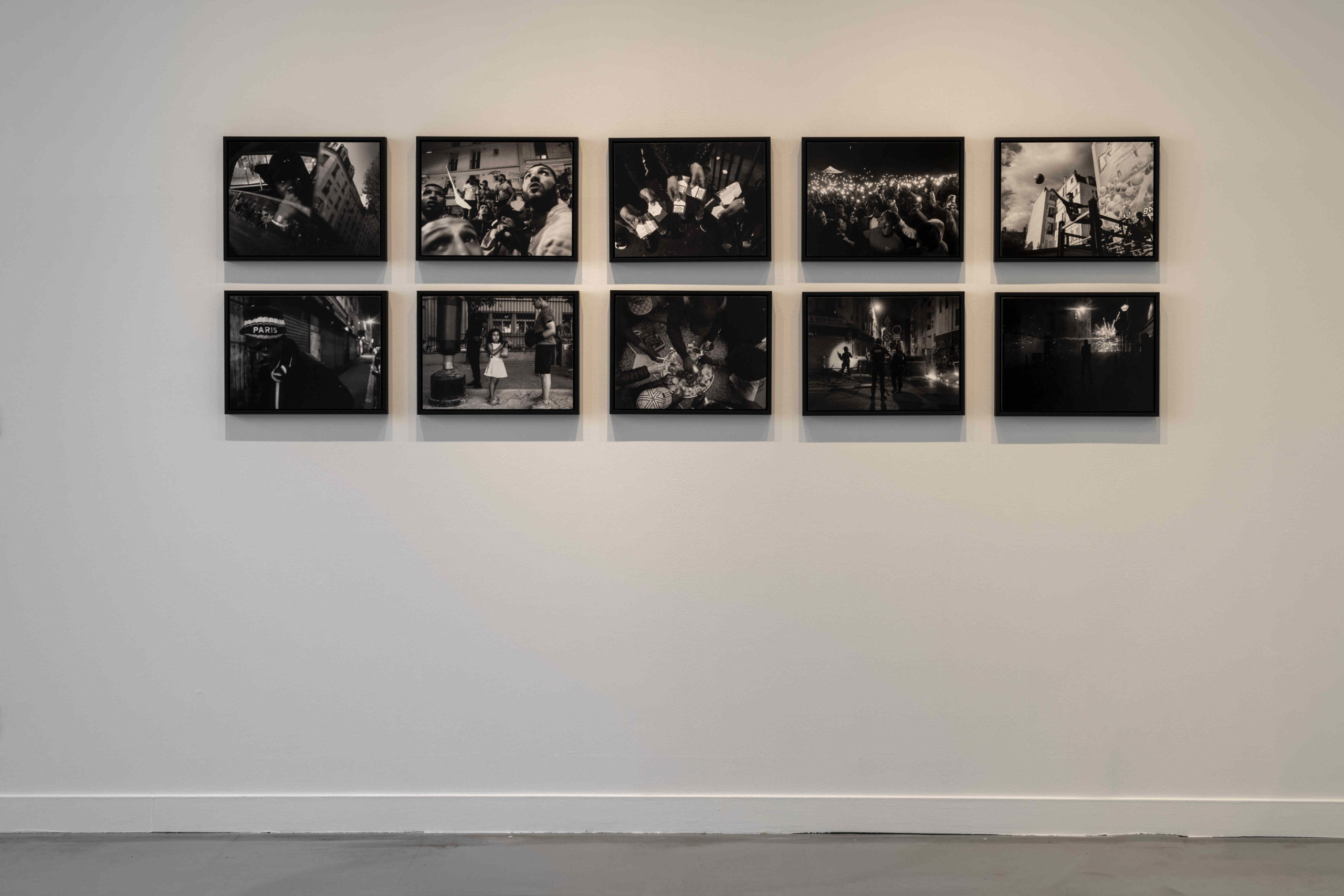 Cebos Nalcakan, the Goutte d'Or's "keeper of images", is presenting here for the first time a sample of his documentary series Paris-Bezbar. Shot in black & white, this series is a long-term project on which the French Turkish photographer has been working for ten years. His photos tinged with nostalgia capture in passing the times when people come together, whether for celebrations or in moments of tension. These images of violence and life on the margins of society are neither aestheticized, nor sugar-coated. Nalcakan endeavours to paint a portrait of these streets in the 18th arrondissement of Paris and their inhabitants, who are like a family to him. From children playing in Square Léon to law enforcement operations, not forgetting the effervescence that accompanied the Africa Cup of Nations, this selection of ten images provides a glimpse of a neighbourhood that has a true sense of community, both in times of joy and adversity.
Sur la route…, 2022-2023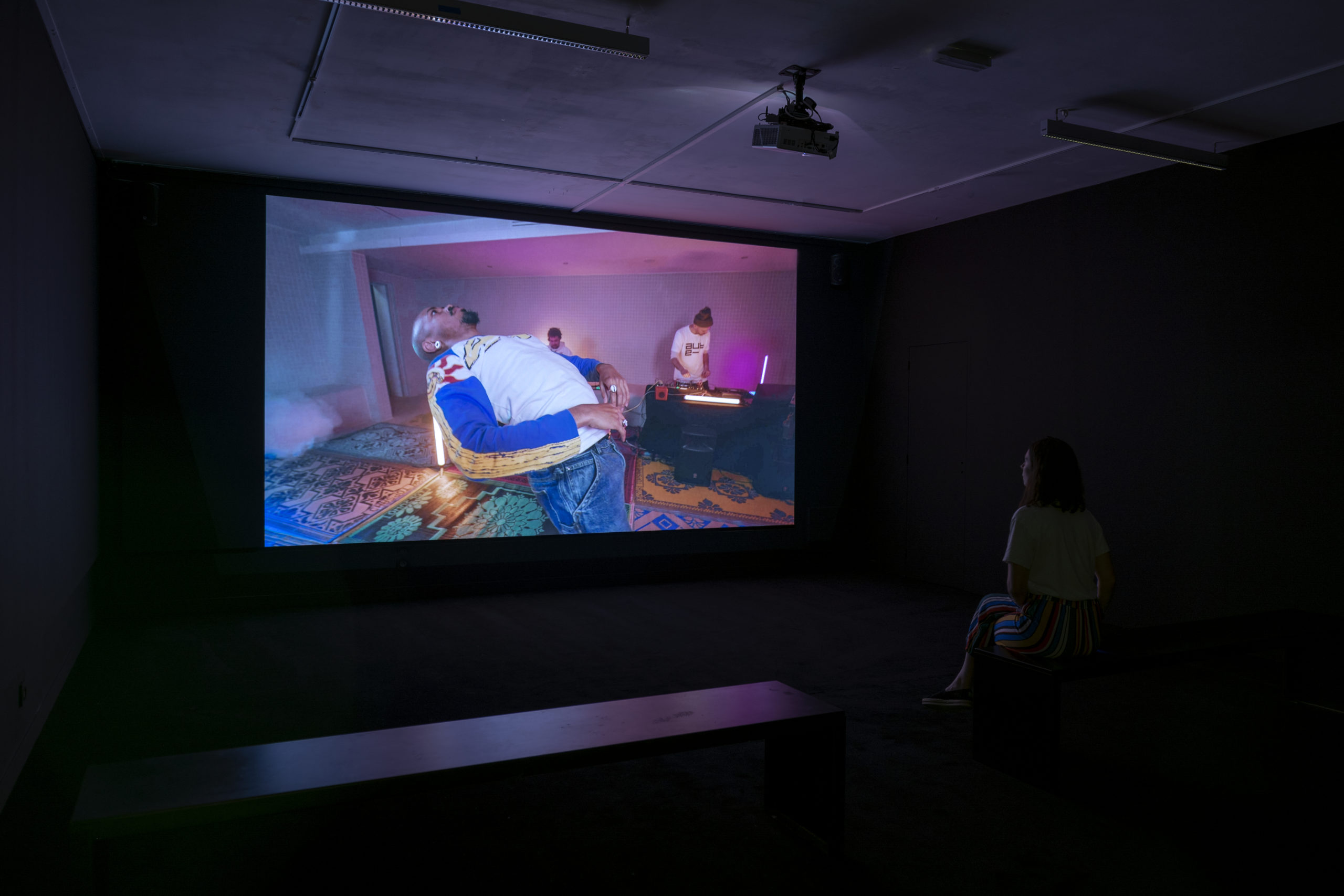 Video cycle.
Total length: 40'.
Bala Funk by Smaïl Kanouté 2022, 3'11''.
Mali Koura by Smaïl Kanouté 2023, 6'22''.
Sodida by Smaïl Kanouté 2023, 4'15''.
Bacongo by Smaïl Kanouté 2023, 3' 25''.
Baye Fall by Smaïl Kanouté 2023, 5'.
Baynana by Smaïl Kanouté 2023, 5'.
Afronippōn by Smaïl Kanouté 2023, 5'.
Black Indians by Smaïl Kanouté 2023, 5'.
Procession Sans Titre by Native Maqari, Simon Rouby & Smaïl Kanouté 2023, 5'.
Growing up in the Goutte d'Or, Smaïl Kanouté had to face the contradictions arising from his double culture from an early age: in Paris, he was seen through the prism of his Malian roots and conversely, in his family's native village he was characterized by his Frenchness. This quest to find his identity was the starting point for a broader interrogation on how society defines the place of black people. As a dancer and choreographer, he has travelled the world looking for answers, deeply convinced of the importance of diversity and cultural porosity. He worked with young dancers in Congo, who had chosen to express their anger at their country's rampant corruption by dancing the krump, which is marked by its jerky movements. In Senegal, he followed the dancer Khoudia to a textile workshop that seems to have a direct connection with the stores of the Goutte d'Or. In reaction to the Jacarezinho massacre*, he teamed up with dancer William Severo Dos Santos in Brazil. These many encounters revealed similarities that he defines as the black experience and which he documents in his video cycle Sur la route…
After being the first non-African American to be admitted into the Black Masking Indians community in New Orleans, Smaïl Kanouté continued his journey from the United States to Mali, finally returning to three different sites in the Goutte d'Or: Le Poulpe recycling and upcycling centre, the premises of local association Salle Saint Bruno and the hammam at the ICI. Like the previous short films, this cycle is an ode to diversity expressed through the mediums of dance, music and spirituality. The last video in the series, made with Native Maqari and Simon Rouby, portrays a procession in which the rituals of Japanese samurai are juxtaposed with those of Hausa warriors in the Sahel. It is a prelude to their work inspired by the figure of Yasuke Kurosan, which is presented in the second part of the exhibition in ICI Léon.
*On 6th May 2021, Rio de Janeiro police carried out an operation targeting drug dealers in the Jacarezinho favela, most of whose population is black. It resulted in the brutal murders of 29 people: 28 inhabitants and 1 police officer.
Cebos Nalcakan & Simon Rouby
Fragments, 2023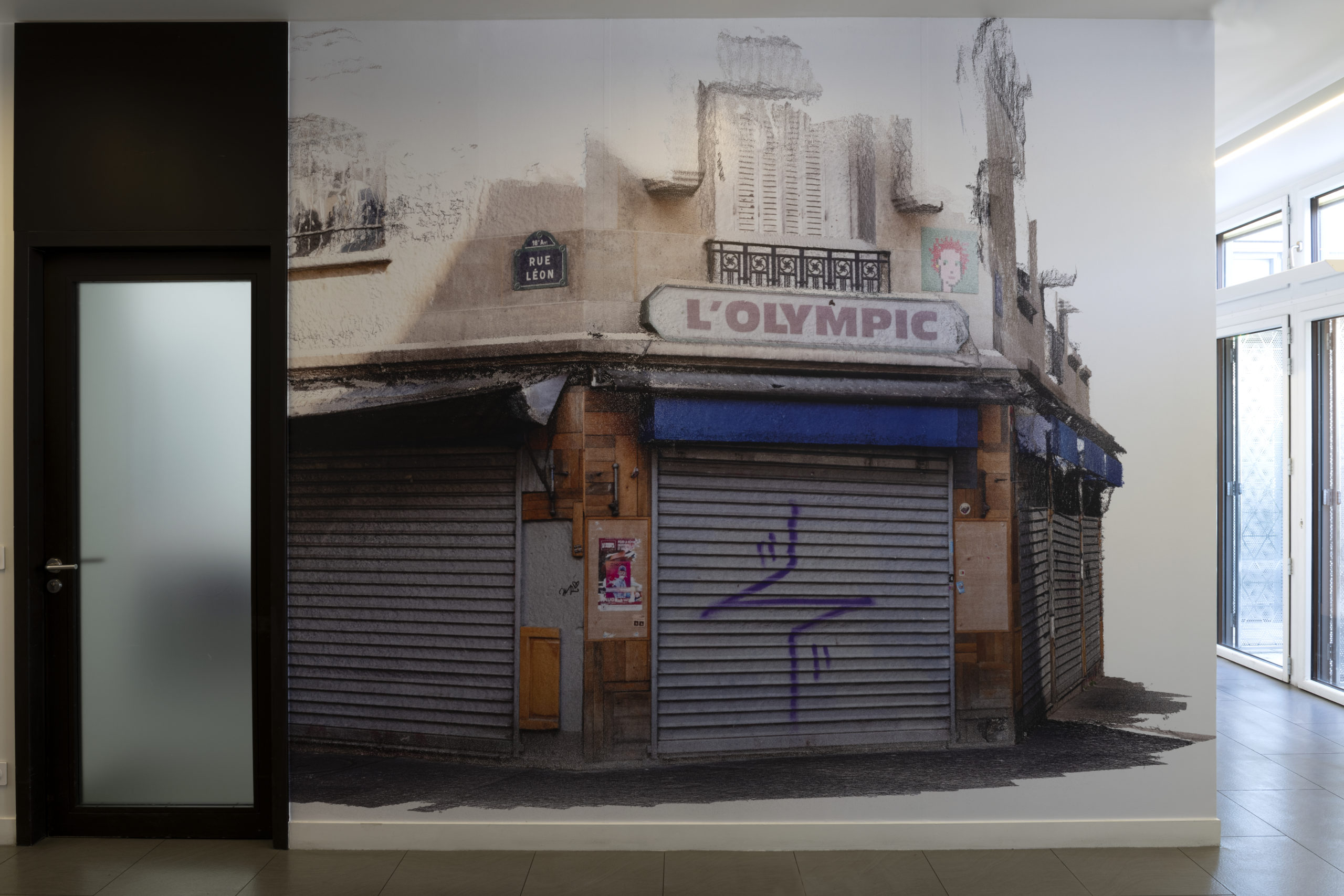 Since 2016, Simon Rouby has been pursuing a practice that centres on photogrammetry, i.e., digitizing objects, people and architectural elements with the help of photos. As Cebos Nalcakan is a source of inspiration, he suggested that the latter use this technique to portray the neighbourhood whose streets they walk every day. Nalcakan joined forces with Rouby, happy to play along and shoot a series of photos of emblematic sites in the area between Barbès and Château Rouge, putting his usual black & white portraits to one side to work on the project. The absolute absence of any human figure shrouds these Fragments of the Goutte d'Or in an unaccustomed silence and Barbès metro station, St Bernard's Church and the stalls and shops of Dejean market seem either to emerge from a dream or fade into memory.
Smaïl Kanouté
Afronippōn, 2020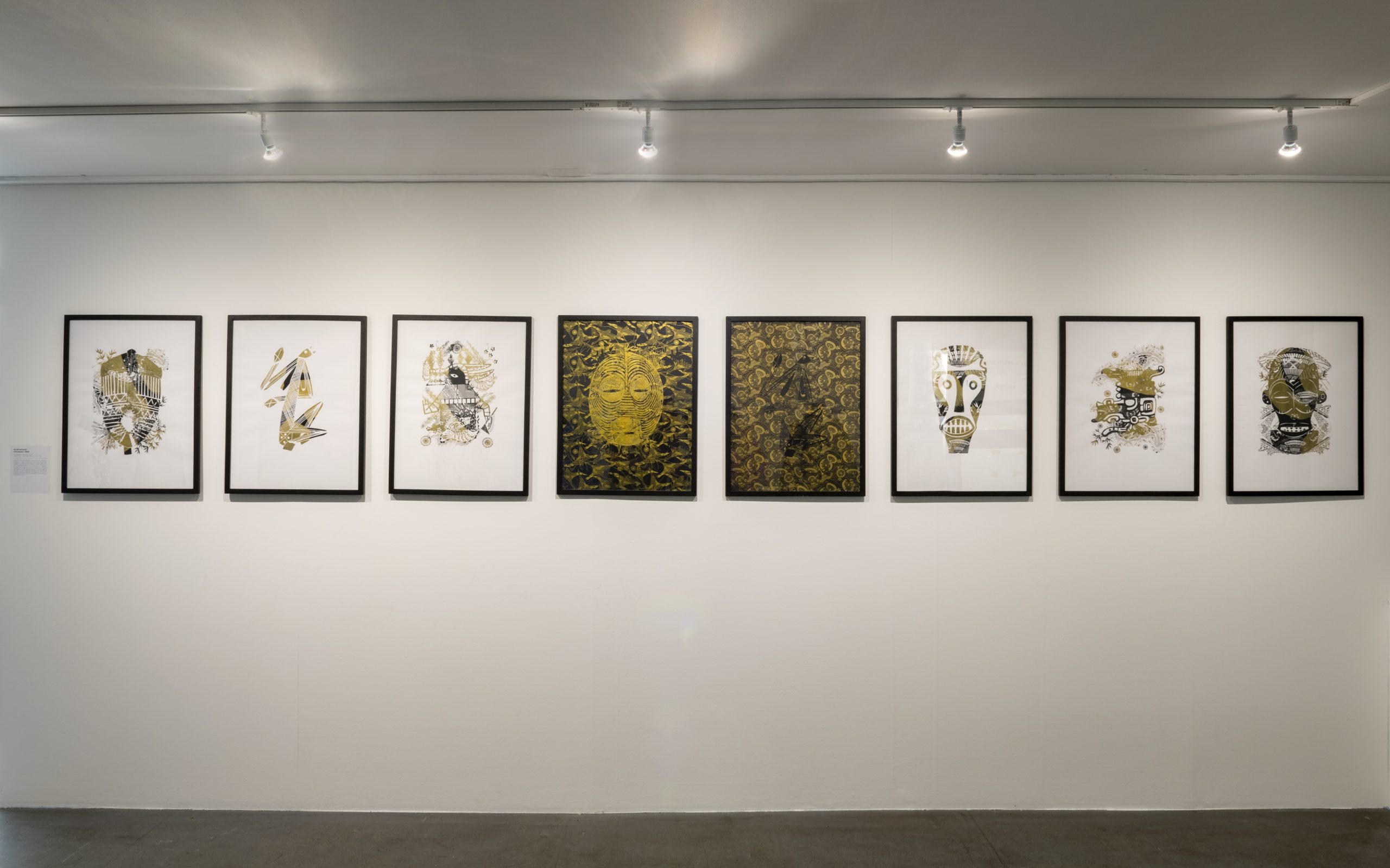 With this series, Smaïl Kanouté embarks on a graphic journey of exploration that creates bridges between Japanese, African, Aboriginal and Mayan myths. By combining and superposing different patterns, he has developed a very personal, hybrid mythology that is also universal in scope. Kanouté has chosen to revisit the mask as a way of confronting the spirits he encounters, the same that also nurture his imagination. Masks are both a gateway to the soul of their wearer and also to the afterlife and, as such, they play a key social and spiritual role in African and Japanese animist culture. These prints act as transmitters, mediating between this racially and culturally diverse mythology to which the artist aspires and the visitors.
Thanks to Backslash Gallery and Smaïl Kanouté.
Smaïl Kanouté
The Yasuke Walks Collection, 2023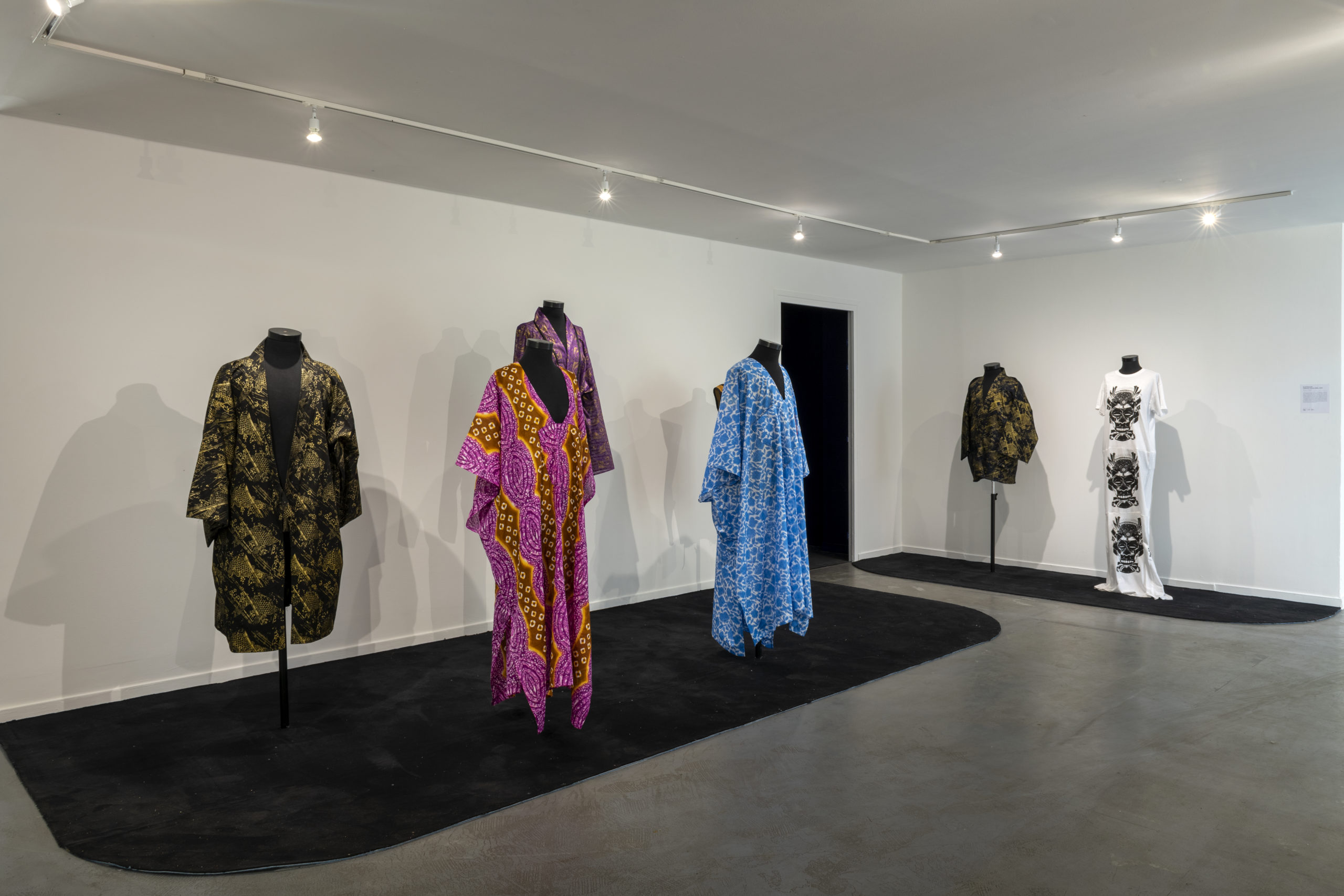 Smaïl Kanouté defines himself as a "choré-graphiste", separating the French word for a choreographer into two parts to underline the equal importance of dance and drawing in his work. Merging gestures, lines and shapes, he creates a unique and highly personal graphic world in which motifs take centre stage. After a first collaboration with XULY.Bët designer Lamine Badian Kouyaté in 2016, Smaïl Kanouté is once again working with the stylist to create a collection of clothes imagined for the body in movement. From Africa to the Land of the Rising Sun, they find inspiration in the destiny of Yasuke Kurosan. Smaïl's serigraphs, manga inspirations and African patterns meet the funky fashions and up-cycling culture of XULY. Bët in a contemporary, urban collection that reveals new ways of imagining the world.
Smaïl Kanouté
Yasuke Kurosan, 2021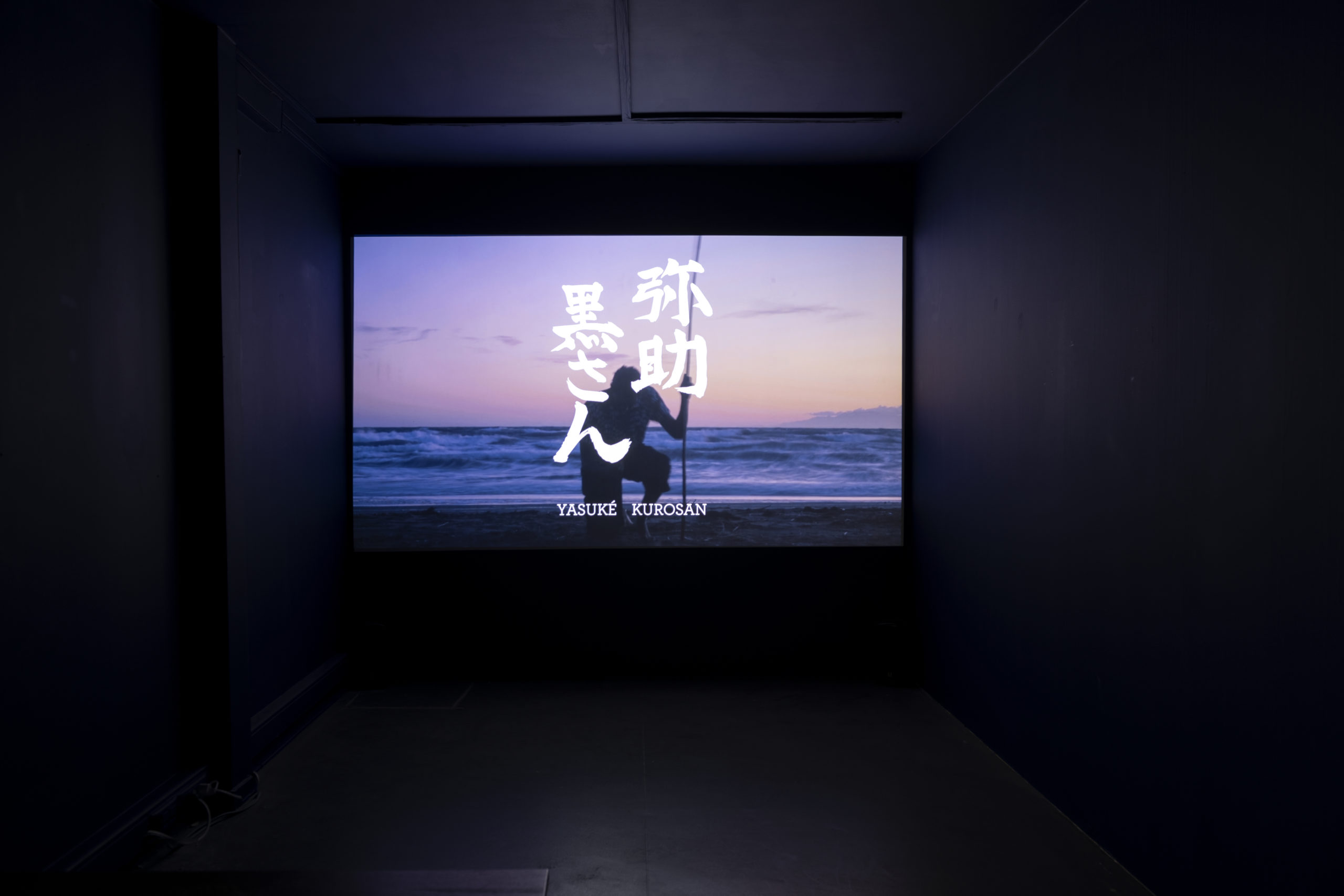 Yasuke Kurosan, co-directed by Smaïl Kanouté and Abdou Disouri, is the second in a series of three short films that includes Never 21 and So Ava, a triptych as it were focusing on the black experience in different periods and countries. It takes as its starting point the figure of Yasuke Kurosan, a former African slave who became the first black samurai in history. Bodies in movement tell the story in Kanouté's subtle and aesthetic choreography, which makes connections between Africa and Japan. The choreography is constructed around three interconnected periods: the 16th century (and the question of slavery), the effervescence and diversity of modern day Tokyo and an imaginary future in which a multiple, collective identity that is constantly being reinvented could become a reality.
Native Maqari, Simon Rouby & Smaïl Kanouté
Kurochōchin, 2023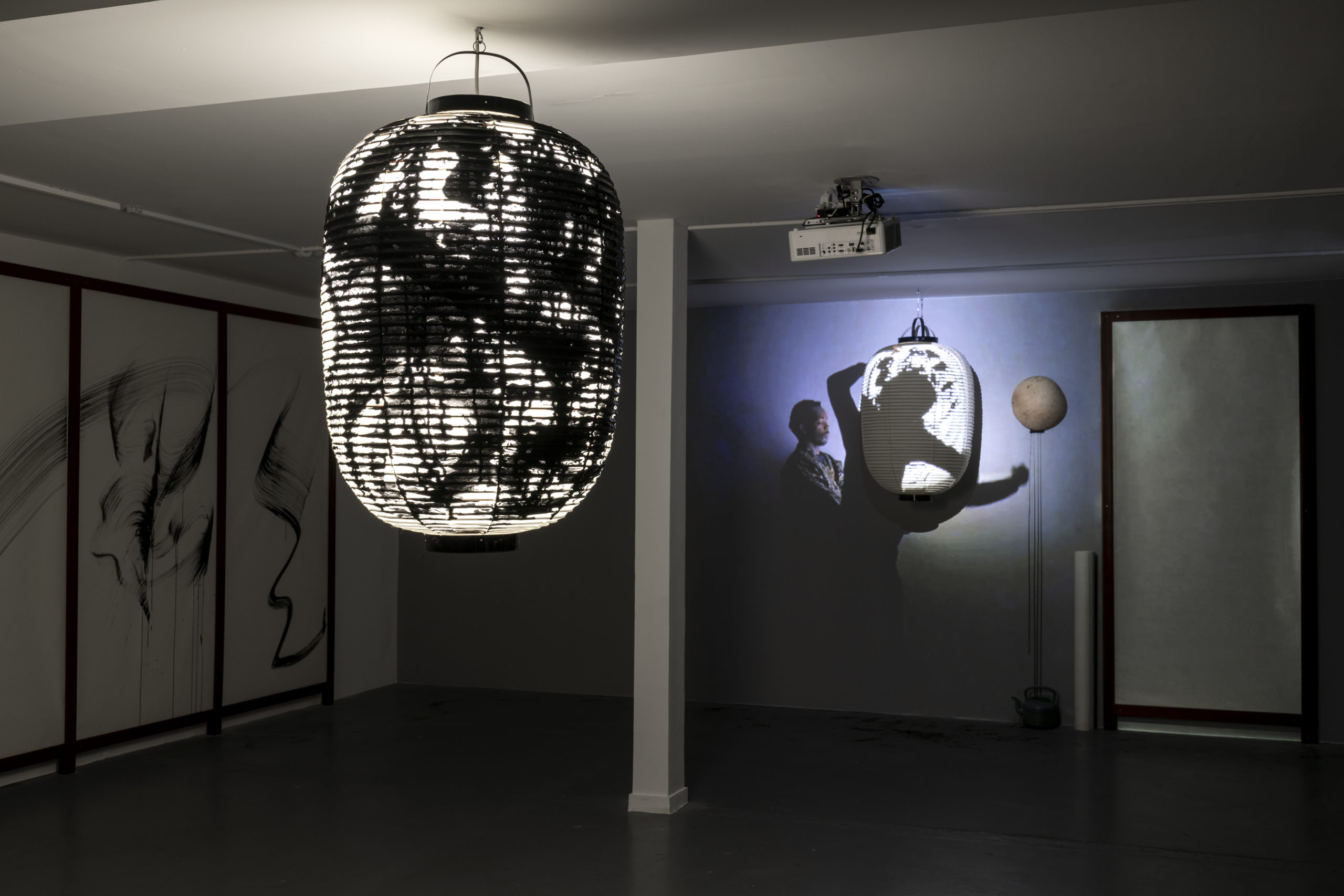 This installation at the crossroads of the visual arts and performance art is a play of shadows, a dreamlike chiaroscuro that draws its inspiration from the literal translation of the Japanese word kurochōchin, which can be translated as "black lights". Following in the footsteps of Yasuke Kurosan, the three artists invent a visual language that associates gesture, light and movement, while playing with the saturated lines of traced characters, the transparency of traditional Japanese paper and superposed images. Native Maqari, who, from graffiti to calligraphy, has long been interested in the aesthetic potential of writing, has replaced his traditional kalam with a brush loaded with sumiink. His silhouette, as he works, is slowly revealed by the black samurai's dance performed by Smaïl Kanouté. Behind the camera, Simon Rouby fixes their bodies within a suspended moment of reality in which, combining references to the Sahel and Japan, a traditional lantern from Kyoto, a calabash and a satala* appear in turn.
*The satala or African plastic kettle is a two-coloured plastic teapot that is an essential object in the Sahel where it is used in particular by Muslims for their ablutions. Depending on the country, it is also called a bouta, seridaga, tassalé or a tasfaith.
Simon Rouby
Dialogues, 2023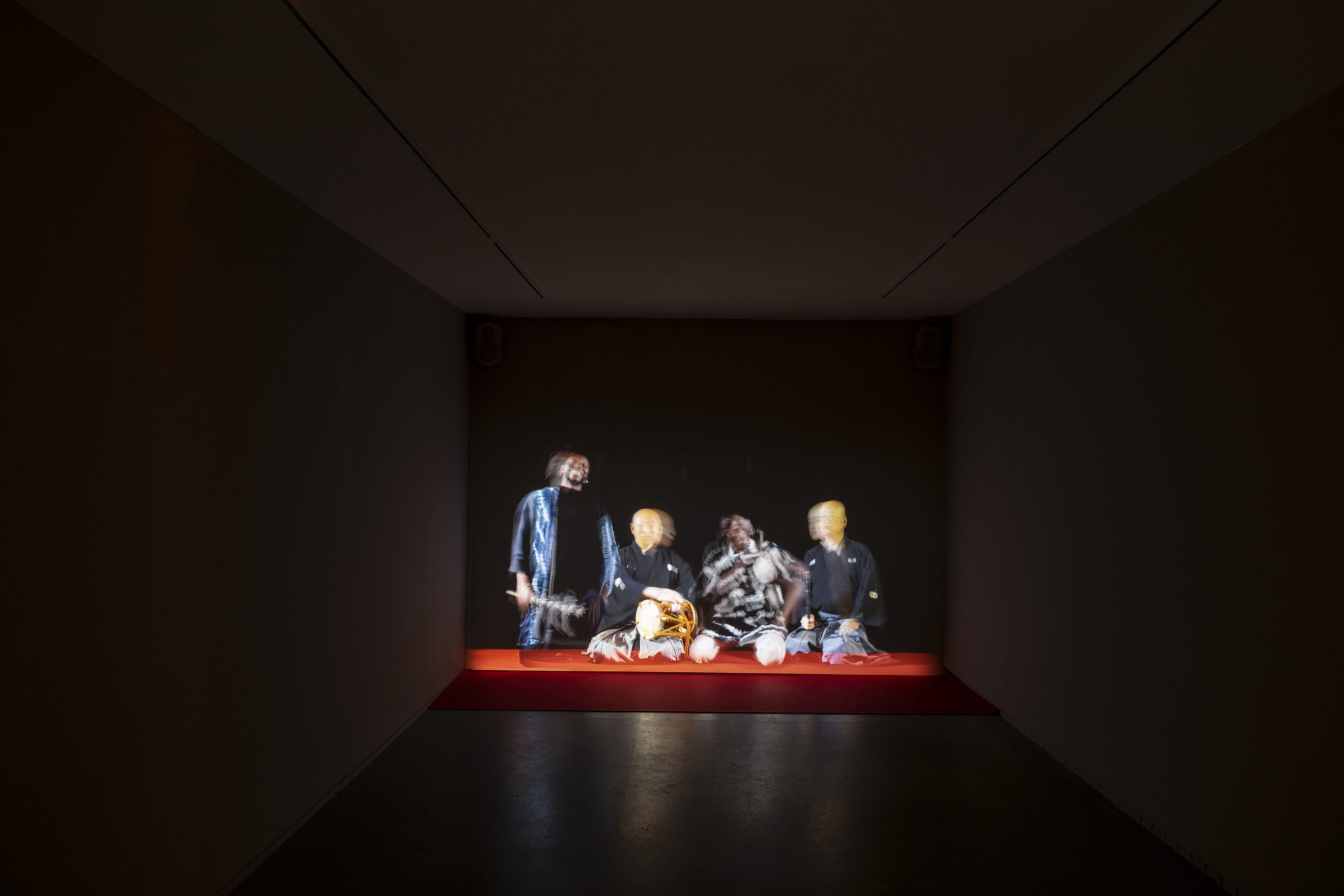 Since 2020, Simon Rouby has been exploring the analogies between the culture of the Sahel, where he lives part of the year and Japanese culture, taking as his starting point the legend of Yasuke Kurosan. During his residency at Villa Kujoyama in Kyoto in 2023, he focused on the observation of formal similitudes in music. For Dialogues, he organised a fictional meeting between four musicians – Yasuhiro Saco, Masatoshi Tanguchi, Dramane Dembele and Zoumana Dembele – establishing a musical conversation between their different instruments. The sounds of the Nohkan flute and Kotsuzumi drum (characteristic of Japanese Nō theatre) communicate with those of the tambin (Fula flute) and the West Africantalking drum. Geography and distance disappear leaving in their stead what each has in common and their unique differences revealed by the musicians' gestures and breath.